"Phantom Productions" is the registered trademark of Phantom Productions, Inc. Copyright 2014 •
All pictures and content on this web site are the property of Theophilus/Reel2ReelTexas
Recommended publications & videos
Most of these are available on line
Please note none of these items are for sale on our site!
Book

From Downbeat to Vinyl: Bill Putnam's Legacy to the Recording Industry - Bob Bushnell & Jerry Ferree

Book

Magnetic Recording - The Ups and Downs of a Pioneer - The Memoirs of Semi Joseph Began

book

Magnetic recording

book

Clive Davis - The Soundtrack of My Life

book

If These Halls Could Talk

book

Made In Japan

book

Perfecting Sound Forever

book

Off the Record

book

Temples of Sound

book

Chasing Sound

book

Sound Recording

book

Studio Stories

book

House of Hits

DVD

Tom Dowd & the Language of Music

DVD

The House That Ahmet Built

DVD

Produced by George Martin

DVD

Standing in the Shadows of MOTOWN

DVD

Les Paul - Chasing Sound

DVD

History of the Eagles

DVD

Sound City

DVD

Stax Records
Last Dance

These are some of the last in
a line of reel tape recorders
from major manufacturers

Akai GX-747 more

Ampex ATR800 more

Fostex G16 more

Pioneer RT909 and RT 707 more

Tascam BR20T more

Technics RS-1700 more

Webcor Professional

CP2550 '66 listing more

What are they doing now?
Story of Nipper - Click on the images below for a larger image

Limited edition RCA Nipper from Harrod's, London
---
Edison Cylinder (Standard) 1904 $20 Cylinders were $.25 each
Play Phantom Production's videos about this Edison cylinder player Windows Media • QuickTime • RealPlayer
Go to another movie of Edison cylinder player (RealPlayer) 1908 ad
---
1959 Tape Recording magazine 1958 Chronology of Tape Recording
Birth of the German Magnetophon Tape Recorder 1928 to 1945
---
Amplicorp Magnemite 610 VU with Brush head - 1958 - $315 to $425 • view video Windows Media • QuickTime • RealPlayer
---
Brush Sound Mirror BK401(wood cab)
This is one of the first commercial reel tape recorders on the market. See 1947 ad from the Saturday Evening Post dated October 11, 1947. This unit has a date stamped on the main board dated Jan 22, 1948. Here's movie of the recorder running. The tape that came with the recorder included the Joe Louis and Jersey Joe Walcott fight in the late '40s.
There is an interesting story that Willie Studer was contracted to convert 500 of the brush Soundmirror reel tape recorders to European specs. He became frustrated with the level of quality of the units and decided he could build a better tape recorder. Thus the Studer ReVox Dynavox T-26 was developed. This was Willie Studer's first reel to reel tape recorder and he launched one of the top lines of Studer and ReVox tape recorders worldwide. We have the Studer ReVox Dynavox T-26 in our collection (below). It was originally in France.
---
We greatly appreciate Dr Bruce A. Sommer providing us with the following information on his donated Tandberg 11.
I attach a photo of the Tandberg gear (right).
It comprises:
    Tandberg II with original Tandberg tape reel, a 5" Scotch reel (unused (not shown)) and AC power adapter (currently set for 240v AC with Australian plug)
    Battery cage (plastic; there's a crack in it I'd been unaware of)
    Handle
    Documentation: original advert, user's manual, circuit diagram, service manual
    Grampian DP4 microphone used with the unit, and brochure (not shown).
I was a graduate student of the University of Hawaii in mid-1969, preparing for field work towards my PhD in linguistics. The target language for my thesis had a difficult (for English ears!) speech sound system, and I needed a quality machine to capture it all.  I chose the Tandberg, though few back here in Australia had ever heard of them.  I recorded materials from a tribal group on the western side of Cape York Peninsula, Queensland (at Kowanyama) and successfully completed my thesis in mid-1970.  It was published a "Kunjen Syntax: A Generative View" in 1972.  It depended on transcriptions of stories, songs and myths from this group (also known as the Oykangand).
The recorder went on to archive languages in the Paninsula – now lost – in 1972-75; some of these were written up in the 1990s and the analyses archived by the Australian Institute of Aboriginal and Torres Strait Islander Studies in Canberra.  In 1999 I presented an MA thesis in Anthropology to the University of the Northern Territory also based on these recordings.  This was published as "Speaking Kunjen: An Ethnography of Oykangand Kinship and Communication." 
The original records were deposited as part of the Sommer Collection in the University of Queensland's Fryer Library.
I loved this machine; it won a special place in my heart because of its reliability and faithful reproduction of sound.  It still works – although it takes a little time now to get up to speed.  It's a fine tribute to Norwegian engineering after 44 years!!  Alas the Tandberg outfit is no more – at least not as a tape recording firm. 
My brother Graham bought the associated Grampian DP4 microphone for me on one of his trips to the UK, and it has also been amazingly robust to have survived.
Please love them both as I have.  I'll send them as soon as I can package them up and get to a Post Office (we live 40 miles out of town).  Please send me an address for delivery.
Best wishes,
Dr Bruce A Sommer
Professional Battery portables
Here are some more of the professional on-location battery recorders (5" +)
---
Centennial of Sound Recording
The following items were donated to the museum by Peter Halferty
Centennial of Sound Recording cancelled philatelic collectibles including: The Capitol Cachets #3 Dated March 23, 1977 The Bayear cachets Dated March 23, 1977 The American #38 Dated March 23, 1977.
Also donated by Peter Halferty were "Centennial of Sound Recording" 13 cent 1977 USPO stamp blocks. We include a photo from our magazine archives of the cover of the June 1977 db magazine which featured this same stamp

"100th Anniversary – Birth of of Thomas A. Edison" and "Honoring D.W. Griffith 1875 -1948 Motion Picture Pioneer."
Additional donations by Peter Halferty included an envelope dated January 16, 1977 for the 1st anniversary of Elvis' death, plus the voting ballots to select the Elvis stamp to be issued by the USPO.
Peter Halfety also donated a collection of Star, CMA. and American Bandstand collectors cards (we include a few below)
---
db Magazines from the "Centennial of Sound Recording" in 1977
---
Edison Envoy
Thomas A. Edison primarily saw that audio recording devices were best suited for the business world for dictating and telephone answering machines. Here is the Edison Envoy which meets that definition.
Here's a summary from vintage-technics.ru - "Edison Envoy Model 1. Made in Italy by "Thomas A. Edison Industries ". This model was made in the 50's. Dimensions 255 x 175 x 90 mm. Weight 3,3 kg. Used coil diameter 83 mm, and standard tape width ¼ inch. The front of the apparatus are, the power switch, volume control, and the counter flow of the tape, made in the form of a long line of marked-up window. In the window is visible red-black stripe, is proportional to the moving ribbon. To the left of the window is installed wheel counter. On the left sidebar is a lever with which pinch roller disqualified from capstan. If you do this when the lid is open, the lever is fixed and pinch roller remains depressed. If you close the lid, then returns to its former pinch roller pressed position. If you press the lever when the lid closed, pinch roller play, but not fixed. So, to rewind the tape forward, we must close the lid to press the lever. Then the pinch roller plays, and frees the film, which is wound by winding traction unit. Structurally recorder is very interesting. All mechanics are basically metallic, and made very soundly. Modes are switched by means of four solenoids. Rubber rollers and only belt was in good condition... Circuit also found in working condition. It's made for 7-type germanium transistors 2G109 (2 pc), 2G108 (1 pc), 2G270 (2 pc), OC44 (2 pc). The electronics board is connected to the wiring chassis with three connectors. No built-in speaker, but on the back of a jack for connecting earphone jack (3.5 mm). Also on the back of the regulator is microphone sensitivity "DICT. - CONF. ". In the right panel are 14-pin connector for a microphone. In the connector housing is built lock button turned on. When the plug is inserted, the button is pressed, and a voice recorder is ready to work. The microphone also combines the function of the dynamics, but in his case there is a button the recording, playback, and rewind. In the recording mode illuminates a red light to the left of the round button rewind." - vintage-technics.ru
---
Schaub Lorenze Stereo 6000 radio 4" tape recorder

Photos donated by Richard Gregg II of Huntsville, AL

Schaub-Lorenz.

Around 1870, Carl Lorenz (1844-1889) opened a shop in Berlin to manufacture electrical lighting products. The shop entered the telegraph field in 1880, taking the name C. Lorenz Telegraphenbauanstalt. At the start of World War I, Lorenz had grown to about 3,000 employees and was a major supplier to the German military of land-line telephone and telegraph equipment and had also entered the wireless field. As Germany prepared for another war, Lorenz again became strongly engaged in manufacturing materiel for the military. Production of radio tubes for the German Army started in 1937, and was followed by the building of communication sets and similar electronics.

In 1948, Lorenz started anew. Some factories had been closed, and those in the Eastern Zone were either taken over by, or moved to, the Soviet Union. Lorenz headquarters moved to the Zuffenhausen district of Stuttgart. During the 1950s, Lorenz recovered strongly and had several branches: Berlin-Tempelhof (radio communications and broadcasting research); Esslingen am Neckar (radio tubes); Landshut (electrical machines, broadcasting equipment, and signal systems); Pforzheim I (research and model workshop for small-scale transmitting equipment); Pforzheim II (telex factory); and Schaub Pforzheim (radio and television receivers). In 1954, the brand name of radio and television sets was changed to Schaub-Lorenz.

In 1958, C. Lorenz AG ceased to exist as an independent company. ITT reorganized its operations in Germany by merging Lorenz, Standard Elektrizitätsgesellschaft, and several others into a new company called Standard Elektrik Lorenz (or SEL). In 1961, the company also becomes the major shareholder of radio firm Graetz. In 1987, SEL, by then an extremely diversified company, merged with French companies Compagnie Générale d'Electricité and Alcatel, with the new company being known simply as Alcatel and the German part known as Alcatel SEL AG. The new company eventually sold to Nokia-Graetz GmbH the operations that had earlier been Lorenz.
1959 PENTRON DORMIPHONE TAPE DECK
The following photos were provided by Joseph Lo Monaco
(information from Joseph Lo Monaco's sales listing in 2013) 1959 PENTRON DORMIPHONE TAPE DECK - Here is a vintage Pentron Dormiphone tape deck. The unit works pretty well but needs a tune-up of sorts. The drive motor is strong, but it seems to need a replacement belt. I have the original, but I have a heavy duty rubber band on it right now. The tapes I have are old and are sluggish. The tapes are a continuous loop similar to an old 8-Track tape. New tapes for this are available. Most of the tubes are original Pentron branded tubes. The unit also comes with a microphone and an under-pillow speaker. The programmable timer clock works too. This has the potential to be reworked into a low power guitar amp for those vintage electronics buffs. (6SL7-GT 58-48 274, 12AX7 RCA, 6X5-GT SYLVANIA 913 MBY, 6V6-GT 58-43 274, 6E5 MAGIC EYE TUBE, Speaker 270-640 QUAM NICHOLS) There is some fascinating history behind these machines. They were initially made to learn a new language or to condition yourself to quit smoking while you sleep!!!!!!! Subliminal Sleep Programming. One of the people associated with these machines (Dr. Donald Ewen Cameron) worked for the CIA and was involved in the MK Ultra experiments.
---
Miles Reproducer Co., Inc. Walkie-RecordALL
Miles Reproducer Co., Inc. WALKIE-RECORDALL • recorded on sonobands cello tape - 12 tracks
Play Phantom Production's videos about this Walkie RecordAll recorder Windows Media • QuickTime • RealPlayer
A sonoband slips on to the spools and a needle etches the recordings on the band. The compact, portable device was activated by turning the black button on the top. (The Field Museum)
1953 $450 ($600 in 1960's) • Related links: Ad Pics Additional information more more 2 Resource page
---
Magnasync Nomad 1960 & $1,025
Label on back states "Magnesync film recorder, Magnephonic sound systems, made in North Hollywood, Calif U.S.A."
Unit has XLR microphone and 1/4" line inputs. Cool unit! • Play Phantom Production's videos about this Nomad 16 mm recorder Windows Media • QuickTime • RealPlayer
Precision hi-fidelity magnetic recorder for 16 mm movie cameras. Now you can produce professional quality sound movies with the amazing versatile "Nomad" 7 lb recorder reproducer! Lip-sync recording at time of take. Small magnetic recorder that mounts underneath a movie camera. It is connected and interlocked by a flexible shaft, and is driven by it. The movie camera drives the Nomad which has a fully transistorized amplifier and uses rechargeable batteries. For longer runs a DC motor may be attached. The Nomad uses 16 mm magnetic film (instead of tape) at the same rate as the camera for simple editing. The Nomad provides recording of two separate soundtracks (one each for voice and music) which are automatically mixed when played back. This method eliminates the need for sound-dubbing, and the duplication of original film where a composite print is required.

The few places we've found reference to this machine is these quotes "collect old odd film sound recorders of the era -- including a Perfectone, Stellavox SM-5 with Rangertone, Nagra II (spring-wind with tube electronics), Nagra SNNs (which I use), Sony EM2NS, Magnasync Nomad, Maihak springwind, and many more." - source unknown

And this quote from Jeff Kreines "It looks to me like the split-16mm mag that was used in the very uncommon Magnasync Nomad from the early 60s. It was a very odd machine -- it attached to the camera with a flexible shaft, and was driven directly by the camera motor (so it stayed in sync, even with spring-wind cameras)."

---
Magnecorder M30, M33 • 1952-1954 $499.95
Interestingly, this recorder was initially acquired by Phantom to be provided to the movie company making the new Howard Hughes film Aviator (2003). They went with a Brush Sound Mirror recorder instead.

Date: Fri, 9 May 2003 08:41:22 -0500
To: <phantom@austin.rr.com>
Subject: Motion picture props

Hello,
My name is Montgomery Pollack. I own a Motion Picture prop house in Los Angeles Ca. We are working on a new film to be directed by Martin Scorcese, starring Leonardo DeCaprio. It is called "The Aviator" It is about Howard Hughes love of flight. There is a scene that has Hughes using a reel to reel tape recorder in 1947. The director has requested a Rangertone or a Magnecord, Magnetophon or a Ampex 200A. I need to purchase this items. Do you have or know of anybody who might have such an item. It needs to work and be in very good condition. I can be flexible in my timeline. I can use any reel to reel recorder from 1947-1950. If I cannot find such a beast we will just use a Webster wire recorder. Any information would be extremely helpful.
Thank you
Monty
---
More on Magnecord from Dave Boyers, son of John Boyers, the only remaining founder of Magnecord
Left - June 2012 - John Boyers (96), one of the original founders of Magnecord.

Photo sent from his son Dave Boyers with the following comments.

"I went over and showed your DVD to Dad and he got a real kick out of it. He smiled all the way through the Magnecord segment. You brought real joy to an old man who doesn't have much joy in his life these days. Thank you. db

060212 Martin,

I am going to photograph my personal PT6, which was one of the early engineering samples (proof of concept) for the entire model run.

Before doing that, I'll give you a little history. Dad brought the unit home (without a case) for me to play with. The faceplate was bare aluminum, no paint, and it still had layout die on it. My guess was he salvaged it from a trash can, but I can't verify that. He also brought an amp section, and it had a case. It also was an engineering sample.

Without the long story behind it, I'll confess that I dropped the transport. It bent things up badly enough that they had to put a modern faceplate on it, so the original one is long gone. That happened in the early 50's. When I was in college, a friend who owned a recording studio sold me a case for the transport which he had in a junk closet. Dad identified it as one they had sold to a government agency, he thought perhaps the FBI. The cases were made by a cabinet shop not far from the factory in Chicago.

When I started my production company, the PT6, which had a full track head on it, was the machine I used to record announce tracks from the booth. It served me well until I could afford a more modern machine. I haven't opened either unit for thirty years, so when I take the photos, who knows what I'll find! Photos to follow.

Here are some photos of perhaps one of the very first 5 Maggies ever made. They've been stored in an airplane hanger and not very well protected, but inside the cases, everything looks clean and functional. This first shot is just as they came out of the loft.

Here's the pair. You'll note that the amp is unpainted, as was the transport when I first got my young hands on it. The faceplate was probably salvaged from a machine that was junked, as it has a data plate with a long serial number.

(right) Tight shot of the data plate. I don't know the serial numbering scheme, so I have no idea what the number actually means. I only know it was on the replacement face when Dad got it repaired after my rather untimely accident. When I first got the PT6, it didn't have the fast forward lever- that was installed with the new front. I had discovered, however, that placing the main control between stop and forward caused the take-up reel to go into fast forward as the capstan/pressure roller separated. In today's computer speak, I guess they'd call that an "undocumented feature".

The amplifier was very original, no silk screening or paint. The original meter and speaker switches were push button style, as I recall.

(right) Head and capstan/pressure roller, 15 IPS. I also have the 7.5 pair.

Anyway, there's a little trip down memory lane. Interesting to note that after all those years of storage, the cases still smelled the same inside. Cheers, db

More about Magnecord at this link
In another request in October 2010, we were the recipient of a referral to potentially digitally covert a backup copy of John Lennon and Yoko Ono's master recording of "Give Peace A Chance." Here's a brief summary of the correspondence.

"I purchased the tape for $8,000 through a major legitimate auction house.    I do not think it was widely publicized nor did they know just how important and rare this is

I will call phantom (and if ok with you I will give them a copy of this e-mail from you !). In addition I am trying to reach Ken Scott who now resides in Los Angeles

I have purchased the vinyl.   The documents say that this song was recorded during the yoko john Bed-in.   However until I compare the tape with the released vinyl I won't know.  Maybe this was recorded a few days later in the studio.   

Lots to learn.   I will keep you informed!

So the possibility exists that the tape was made on the machine that was brought in to the hotel bed in.  Or.  The tape was made a few days later at Trident. Ken would know

And the possibility exists that the released vinyl is the same as the tape (bed in) or the same as the recording made at the studio (if there is one)

I won't be able to solve the mystery until I get, as you say, a dvd made of the tape.   And that's what I will do @ phantom.  Do you have a contact there??

You are very helpful and are probably happy to hear it wasn't an ebay find!

I did also purchase, years ago, john lennons typewriter (from his aunt) and it is on loan to the grammy museum near Staples Center

Any more thoughts?Many thanks, Steve"



"Martin, Pls contact me re reel to reel master tape I own that was verified as John Lennon's recording of Give Peace A Chance. Ken Scott producer,1969, Trident Studios....I was recommended to u by experts in los angeles Respectfully Steve"
---------------

"Hi Steve!
Very interesting tape and information.  We use several recorders for transfer work.  They are in excellent shape for their age.  They include a Studer B67 that is a 1/2 track mastering deck that runs 7.5 and 15 ips.   It had been excellent in handling tape.  Additionally we have a Tascam BR-20T which is also a 1/2 track mastering recorder and the last reel to reel produced by Teac/Tascam.  We also have a 4 track Otari MX5050 BQ II which is a 4 track recorder and also a great tape handler.  We prefer to complete our transfers through a Tascam DM3200 board (no effects, just straight) going to a Mac Pro with Final Cut Pro mastering.

To be honest, I am a tad nervous to handle such a valuable tape, however would be willing to assist you in any way I can.

Thank you again for contacting us and thanks to the person recommending us.
Martin"

--------

"Martin, Very happy to let you know that I have made contact with Ken Scott who is willing to help on this journey!!!
Ps.   I'm a bit nervous too, but this is historical and I want to have the best possible team on the  journey! Steve"

11/08/2010

"Hi Martin, I was meaning to update u this week.    Ken Scott, the engineer on the tape has been guiding the process!    He had moved to Los Angeles in the 80's.

The tape was taken to his trusted studio where it was hand rolled on to a metal reel and baked.

The next day it was was played and recorded on to two cd's.  One for ken and he signed one for me.   Photos were taken too.      It all went well.   After the one playing, the tape went back to the original spool and is now in a humidor to preserve its condition.

There are a couple of things on the very beginning of the  tape that were not included in the vinyl,  we were excited to hear them!   Ken Scott recalled the session with John and Yoko where the work was done

It looks like this was a copy of the master that was made for security reasons before the studio shipped the master to the place where they made the vinyl records.   If it was the master, we would have apple and emi lawyers all over us, as they have ownership rights!

There r still some unanswered questions that ken, who is being honored with Paul,McCartney in England next month, is trying to answer when he sees some of his pals at that reunion. Steve"

Steve sent us an original 45 record which reflects that the recording was actually made in Room 1742, Hotel La Reine Elizabeth, Montreal, Canada (this was the second bed-In that was held in May of 1969).

The Beatles in Missouuri in 1964
Berlant Concertone 20/20 recorder in portable cases and Edison cylinder player

Magnecord PT6-AH and Recording Amplifier

Note ad for Magnecord looking for the oldest working recorder. We were told by the seller that this specific equipment was used to record traveling bands such as Whoopee John back in the 1940's and 50's.

Crown 3M
---
Custom Vintage Tube Recording Console- Columbia Records
We appreciate William Neshov giving us permission to share his May 2013 auction listing for this unique console.
"This desk was custom built for band leader/ producer/ arranger Jimmy Carroll circa the late 1950's. Jimmy did a lot of work for Columbia, MGM, and other labels. He also worked quite a bit with Mitch Miller, and this console was used for the famous "Sing Along With Mitch" shows, the biggest thing on TV in the early 1960's. Look up his discography and you'll sing Frankie Laine, amongst others.  

This console is one of a kind. It was built by New York audio tech Peter Jackson. It is 10 x 3 modular preamp console with echo sends and returns, fully patchable via patchbay on the right in pics. Jimmy had a recording studio at the Woodward Hotel at this time. "Jiggs" Carroll is also notable in that he had bought the second 8 track Ampex tape machine ever built (after Les Paul, of course being the first, and Atlantic Records the third), which paired with this console. It was maintained by Robert Leisenberg from Decca during this period. The console was taken to California when he moved out to LA to work, until he passed in 1972.

I have been in occasional contact with Jimmy's nephew, who gave me a wealth of history on the desk, as he was working at the studio at the time. He also has a lot of reels of tape recorded through this and may sell them.

I have full doc's on it. There is a cutout where the Ampex remote was which can be covered. Some of the old style patch panel faceplates are gone, but they can be found.
There comes with it an extremely rare Universal Audio power supply, as used on their tube consoles, to power this. There will need to be recapping and teching, or bringing up on the variac. It has been off for a long time. This should be straight forward to get going- classic tube audio."
---
Decca FFRR model N- 6 channel stereo stand alone valve microphone preamplifier mixer. Decca tree mic system. First stereo recording mainly classical music. This might be the last of these units hand built by Decca engineers left ,regards Neville

Arthur Haddy & Roy Wallace " Decca Tree" design c1956-7 first stereo 6 channel FFRR valve microphone mixing consul -Type N  [ 31"x15"x12 - 120lb ] World's first stereo recordings of classical music and opera. Last used in 1971 for the recording of the Queen Elizabeth's speech at the opening of the new River Mersey Tunnel Liverpool (right).

It`s outboard step down transformer is missing so can`t test, but I`m going to get it serviced. I have a Ferrograph 4A stereo reel2reel but not the six Neumann mics! ... or orchestra, but could be fun. I think Decca made less than 20 of these so could be last working one left! Regards, Neville

I used to own my own guitar shop but retired early. I love the old stuff and the engineering behind it. This Decca is a thing of beauty. From Haddeys sonar HF German u-boat detecting to this. I know how to use it, but no idea how it works. I can see the men in the 50's sat on their steel work stools (left), hard wiring this unit (tape deck far right same as my Ferrograph 4A). The skill involved is amazing. Every solder joint is perfect. I`ve switch cleaned all the pots and just keep working them. I bought it from an auction estate sale last week $120.00 ! It`s worth that just to look at it and learn the history. I have allowed a decent budget to get it serviced and up and running. I love VU meters and to see those huge ones flickering will be fantastic.

(left) Decca Studio Broadheath London 1950s "Decca Tree" system tape deck far right same as my Ferrograph 4A.

I will keep you up dated and when running in the new year will up load you a I will keep you up dated and when running in the new year will up load you a YouTube clip. YouTube clip. If you search YouTube for  jetel34, that`s me giving a demo of a 1966 Triumph Silicon amp which I sent to LA  3 weeks ago

Feel free to use pics as you will. View all of Neville's photos in pdf.

Neville Jones - Manchester England
---
Presto D7 Record Cutter
Presto D7 photos - donated by John abuck280
---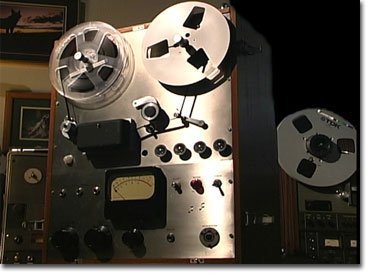 Factory matched pair of Ampex microphones • Early Brush professional recorder • Case of Blank Edison Cylinders from Ford Museum
1959 Comments regarding tape recording's future in the November
---
Items of interest from the 1977 Accurate Sound catalog
---
wire recording - late 1940's to early 1950's (haven't found wire ads after 1951)
---
A Unique Akai Stereo Terecorder
Akai produced over 100 models of reel to reel tape recorders. This is one we had not seen previously. When stereo came along, it looks like Akai created their first stereo recorder by adding a 2 track head, stereo outputs and a second smaller unit to house the second channel electronics and speaker. This unit has a switchable head to go from Full track to two channel Half track (stereo). Pretty cool unit. Interesting styling.
---
Here's another way to add stereo
---
This is the incredible 4 track reversing audio recorder with a built-in black and white video recorder.
Jerry Lewis pictured with Roberts 1000. '69 ad • Ad for Roberts 1050AW (note the Rheem Manufacturing address)
---
Akai • Roberts • Rheem • Califone
Roberts provided good solid reel tape recorders in the semi-pro class during the late 1950's, 1960's and early 1970's. They had an interesting evolution including this original Roberts logo (right) which we photographed on one of our earliest Roberts models. The logo very much resembled the Rolls Royce logo. Here's the first Roberts tape recorder ad we've come across from 1958 using that RR logo. This one was soon replaced by the crown over the name Roberts. Robert G. Metzner told us in an interview in Beverly Hills, CA on December 11, 2012, that he was contacted by Rolls Royce attorneys about not using the double "R" logo.

---

More about the Roberts Akai connection:

Robert Metzner's relationship with Akai first started around 1953 with a turntable that was brought in for repair to Califone. Robert's brother-in-law, who was working for him at the time said there was a very unusual motor in the player. Robert Metzner noted the numbers of the motor and found they were registered to Saburo Akai. Mr. Metzner contacted Akai and said he would like to know if they were making these motors and if not, could he have the tooling to make them. If they were making them, could he get their distributorship. Akai sent Robert Metzner a brochure about the motors they were manufacturing. A relationship developed and Akai provided motors for some of the Califone products.

When Akai first sent tape recorder demos to Roberts Electronics, Metzner said they were of very poor quality and he recommended they aspire for the quality of Ampex. He sent an Ampex 600 to Akai and they actually copied the basic design. The early Akai and Roberts Recorders had the similar look, however not the electronics and mechanics of Ampex. VIDEO

Roberts Electronics, Inc. negotiated an arrangement with Akai wherein Akai would build the machines to Roberts specs, they would be shipped from Japan to the US where Roberts would inspect every unit before it went out to sales. Further, Robert Metzner negotiated a contract that enabled Roberts Electronics to be the sole North American distributor for the recorders. Akai sold the same, or similar models to the rest of the world under the Akai name and paid royalties to Metzner. This lasted until 1972 when Akai entered the US market. Robert Metzner learned the Japanese language and made 12 trips to Japan beginning in 1958, forming a strong relationship with Saburo Akai (who founded Akai in 1929) until Saburo Akai's death in 1973. VIDEO 1 VIDEO 2

---

Robert Metzner owned the Roberts company and its Educational Products Division was named Califone. These companies were bought by

Rheem Manufacturing

(which interestingly does not mention tape recorders on its history/about page). A friend of ours briefly worked at Rheem's NY HQ, but was unable to find any records regarding their tape recording years. This may have been because the recorder component of Rheem was based in CA. Please note the story from Billboard below which details an agreement allowing Akai to market their recorders along with Roberts in the US in 1971. Prior to that time Akai was not available for sale in the US due to the Akai Roberts distribution agreement with Roberts/Rheem (also note Akai ad below from June 1,1971.)

See also

.

We provide some of the many versions of the Roberts/Rheem/Califone logos below.

---

Yes...this Rheem Califone 73-T really is from the Rheem Manufacturing Co. At some point Rheem bought Roberts and distributed the Akai built tape recorders.

Califone International Inc., 1145 Arroyo Avenue, San Fernando, CA 91340. Founded in 1946 as the educational products division of Robert Metzner's Roberts Electronics with reel to reel tape recorders.

Rheem acquired a substantial majority interest in Califone Corp., in 1959, and a minority interest in Roberts Electronics, Inc., in 1961, and formed the Rheem Califone-Roberts Division, selling tape recorders, teaching machines, sound systems and other related equipment for the home, schools and industry.

Other references - Billboard July 3, 1971 - "Akai America will introduce a full line of tape players Sunday (27) at the Consumer Electronics Show, The Califone-Roberts division of Rheem Manufacturing Co. has entered into an agreement with Akai Electric Co., Ltd. of Japan that will allow certain tape products to be sold in the U.S. under both the Roberts and Akai brand names. Under terms of the agreement, Roberts will continue to market the major part of the Akai made products under the Roberts lab on an exclusive basis. "The benefits to both parties this new agreement are numerous and mutually desired,." said Roberts president C.R.Phillips (from 1974 to 1985, Mr. Phillips was Executive Vice President and Director of Akai America, Ltd., a consumer electronics company. Prior to that he was President of Califone-Roberts Division of Rheem Manufacturing Company. Mr.Phillips received a B.A. from Pepperdine College, Los Angeles, California with emphasis on Business and Speech Education, in 1956.). The agreement enables Akai America, the U.S. subsidiary Akai Electronics, to market tape equipment which has been denied under a previous Akai-Roberts contract. Akai has been limited to marketing its 1/4 inch videotape player. The ad to the left shows Akai tape recorders available in 1968 in the United Kingdom.

1929 Akai founded, audio manufacturer of reel-to-reel tape recorders, tuners, audio cassette decks, amplifiers, video recorders, and loudspeakers

Last reel tape recorder the GX-747 was produced 1981 to 1983

1984 Akai Professional division founded to manufacture electronic musical instruments
MG1212 – The world's first integrated 12-track recorder/mixer
AX80 – Eight-voice analog synthesizer with unique user interface

Here's some units sharing the same configuration and different name and model number.

Roberts 144 (photos provided by Jim McEwan)

This is the Roberts 144 reel tape recorder which looks to be the first version of the 400 and 400X

The Roberts 144 reel tape recorder was also the first to utilize Robert Metzner's patented dial invention - view video

photos left and above by Jim McEwan

Roberts 400 1963 • Akai 345

Roberts 4000X 1965 $795 • Akai X-355

Roberts 333X 1970 - 1973 $549.95

Roberts 333 reel, cassette and 8 track unit. Movie of Roberts 333X working - RealPlayer Ad 71 catalog listing

Akai X-2000SD $549.95

1973 catalog listing On sale $495

Here's the Akai version of the Roberts 333X

Not in collection

Speaking of Roberts...how about this conversion of a Roberts 997 to play an iPod by W. B. Morton

(summary from ebay listing used with permission from W.B. Morton) Here is a Roberts Model 997 Reel to Reel deck that has been repurposed to play music files via a universal iPod docking station.  Past meets present!  Plays loud enough for a small office, dorm room etc.  I played an iPod and CD player through the mic inputs and everything sounded fine although there is some distortion if the volume is turned all the way up.

The Roberts 997 tape transport and record/play heads were in terrible shape, so the following was done to put the separate right and left single ended amps to work (and make the resulting case look better):

1.  Removed the reel motor and associated drive wheels.
2.  Remove forward/reverse link mechanisms.
3.  Keep the play/record and forward/reverse switches in place for any future experimental tinkering.
4.  Kept the link arm connecting the play/record switch to the sliding switches on the separate amps (again for any future experimenting).
5.  Lock the amp sliding switches in place in order to fix the amps into the 'play' position.  This can be easily undone if the link arm is to be enabled again.
6.  Removed the 6267 (preamp) and 6AR5 (bias oscillator) tubes - not needed for current purposes.
7.  Replaced the 12AD7 dual triodes in each channel with 12AU7 tubes.  The original dual triodes were bad anyway and the 12AU7's work just dandy.
8.  Pulled all of the exterior textured vinyl covering off (no easy task) and covered the exterior with linoleum for a smooth surface.
9.  Painted the exterior and body panels with black wrinkle-finish paint.
10. Painted the interior of the cover with regular black spray paint.
11. Added a hinged fold-down shelf to the front of the chassis (where the reels were).  This is where the iPod dock is placed when in use.
12.  Added a 3-prong power receptacle and moved the fuse to the back panel.
13.  Added a double throw switch to allow earth grounded operation or to simulate historical 2-prong operation.  The 'up' position connects earth ground and power, the 'down' position connects only power, the center position disconnects both power and ground.  The 'down' position will avoid ground loops depending on what other equipment may be used as a source and how that equipment is connected to earth ground itself.
14.  Installed a duplex wall socket inside the chassis to accommodate power connection to the iPod dock via its USB power adaptor and to apply power to the amps.
15.  Kept the internal speakers in place.  Just for fun.
16.  Kept the external speaker connection plate on the right side of the chassis.  Just for more fun.
17.  Kept the external doors for the internal speakers in place as the cavity behind each door is just large enough to hold the iPod dock and remote control when the unit is not in use.
18.  Attached an iPod holder to the inside of the cover (the white thing inside the cover in the pictures).  The sides of the holder are adjustable to securely hold various iPod models.
19.  The front cover door is detachable just as it was when the unit was originally built.

The lucky winner of the auction will receive the repurposed player, a universal iPod dock (Apple part number MB125G/B including USB power adaptor, various cradle adaptors, remote), power cord, and coax cables to connect the 1/4" speaker out jacks to your speakers.  For the input connections, RCA to 1/4" jack adaptors are included.  I will also send the two 6267 tubes (tested marginally ok, each has a rubber damper) as well as the 6AR5 tube just in case further experimentation will be done. by W. B. Morton

---

Reel to reel using a card reader (provided with permission from Evan Long and Vince Long)

My son, a software engineer, was raised surrounded by all things analog. Since I love mixing old technology with new technology we did a bit of a project together.

There are credit card readers you can get for your smart phone which are nothing more that a tape head in a small plastic case. We picked up a few from Square (http://squareup.com/) and disassembled one to see what was inside. It's a head and a resistor. We connected it to my guitar amp and slid a credit card through it and, sure enough, we could hear the data on the card. We then held it against a piece of recording tape as it went through an Akai GX-260D and it reproduced the sound on the tape.

The next step was all his. He put together an app for the iPhone that reads the analog data coming from the reader and records it to the phone's memory. We decided to move further back in time so he took pictures of my RCA Model SRT-403 and animated the reels when the app is in record or play modes.

We took the head cover off the RCA to get better access to the tape path. We also had to modify the Square reader a little to reduce the pressure placed on the tape. The original design puts quite a squeeze on the credit card as it's drawn through the reader. The head is mounted on a sort of flat spring and it was a matter of bending things a little to allow a small gap for the tape path.

In keeping with the old-as-can-be analog theme, I selected a big band remote recorded off the air in the late 40s on paper tape. The band was Art Kassel's. We placed the RCA in play and pressed record on the iPhone. The current version of his app does not provide audio output at the same timee as recording but the resulting sound, on playback, was pretty impressive considering the time lag between the technologies. He shot video (using an iPad) and dubbed the sound in over it to show what was happening.

The project and the video can be viewed on his web page here:

http://evanlong.info/projects/reeltoreel/

If I was doing this over I would use my Brush BK-401 Soundmirror instead of the RCA. One can't go back much farther in time with reels than that.

BTW, the paper tape I used was out of my collection which I have online here:

http://www.otrannex.com/papertapes/

Vince

---

Here's another interesting Rheem tape recorder/duplicator (I assume) • These pics were donated by Nathan Luoto

I need help identifying a Rheem model tape machine.  It is built into a large black metal box, with a large nickel or chrome plated cover over the heads. It has only one lever to engage and disengage the pinch rollers against the capstan.  It does not have transport controls. It appears that it was designed to have four separate tapes stacked and played together.  Spacers to go between reels, four individual heads stacked parallel, and four pinch rollers. There are two level knobs, two VU meters, and two 1/4 phone connectors on the front, and three RCA connectors on the back near the fuse and power cable. The only other control is a power switch and an indicator lamp.I rescued this unit from a pile of scrap/electronic recycling.
-Nathan

---

Another interesting evolution was the Berlant Concertone > Concord > Teac connection

Teac/Concertone 505 1960 - $495

This concertone was built by Teac. Here's the Teac version. some history

More: In the February, 1982 issue of Modern Recording and Music magazine, James Rayton with the Ascot Recording Studio in Hollywood, CA wrote:

"probably around the early '60s, the (Berlant/Concertone) assembly was moved to Japan, and around the same time, I believe, the company became known, paradoxically, as "American Concertone"; their product emphasis gradually moved into the mid-to-high-end consumer category, (and occasionally appeared under other trade names like 'Concord'). Whatever remains of the company today is perhaps better known as TEAC, who interestingly, continued making the old Concertone 90 at least through the late '60s, with only a change of nameplate (and probably solid-state electronics) and a different model number."

1965 home recording installation showing the Concertone Series 90 professional reel to reel tape recorder which became the Teac R-310 studio reel tape recorder

---

As I'm mentioning Berlant and American Concertone, here's photos of one our favorite's, the green with large white buttons Concertone 801 featured in Doris Day and Rock Hudson's movie "Send Me No Flowers." Link to listing in our collection

Here's the identical recorder which was re-branded by Dokorder

Concertone 801 on far left and Dororder rebranded unit and original box on right. Photos courtesy of "technextdoor"

To add to this interesting group of connections, we have the Teac TD-102. This was acquired from someone who bought it in Nashville.

The picture below actually shows the Teac TD102 on the 25th Anniversary box released by Teac around 1988.

So the Teac TD-102 was made around 1953. This is interesting because the design closely resembles the Ampex 300 which was released in 1949.

In regards to the Denki Onkyo tag that is on our Teac TD-102, we received the following from Jerry Norton who worked for Berlant Concertone and mentions the connections between Berlant, Teac and Denki Onkyo/Dokorder.

April, 2012
Phantom Productions received this information from Jerry Norton who worked with American Astro-Systems as they transitioned from Concertone tape recorders to supplying high tech gear to the military.

"You asked about my thoughts on the Berlant/Concertone evolution. Here is the story according to my recollection and personal involvement. In 1962 Berlant sold the Concertone line and rights to the name to "American Astro-Systems" a small Aerospace firm in South El Monte, CA. It was in this time frame, 1963 that I recall American Concertone licensed the rights to manufacture the Model 505 to TEAC (Tokyo Electro Acoustic Company) who as we know continued to manufacture this baseline through 1970.TEAC produced the 505 and some of the early Concertone recorder subassembly components in Japan as well as DOKORDER. However, the final assembly and checkout took place in the US (Culver City and South El Monte, CA)."

---

3M manufactured both the Wollensak reel to reel tape recorders and the Revere reel tape recorders in the same building. The two brands were very competitive. Note the similar parts, however different looks in these photos.

Wollensak 1580 (1965) • Revere (1961)

No ads for Revere were found after 1961.

Last Wollwnsak reel tape recorder information we found was available in the 1972 review of the 6364

---
R2D2 Replica (complete with sounds). Teac 80-8 was used to record the sounds of R2D2 and 3CPO in the Star Wars movie
---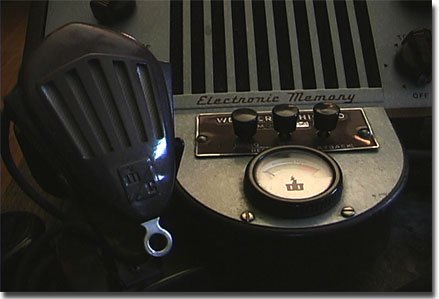 Webcor store sign (working) • Webster Chicago control unit for wire recorder • Webster Chicago 2L25 amplifier and it tubes
---
Electro Voice microphones appeared under a variety of other brand names including; Ampex, Rauland-Borg & RCA
Ampex H-1390 matched pair

Ampex Slimair

Rauland-Borg 1248 BL

probably made by Electro Voice as similar to their Cardyne series

(1948 EV catalog listing) 1949 ad

RCA SK-1001 - Electro Voice 664

RCA SK-1001 with the gray EV 664 and an EV 665
---
Heathkit AD-22 1965 $149.00 very similar to the Ampex 600 and was mounted in a samsonite case (note head cover record button and layout). '65 ad
Heathkit Speedwinder SW-1

Speedwinder handles 10.5" reel; has two motors (one for fast wind and one to provide drag on the other reel); and auto cutoff.
---
---
| | |
| --- | --- |
| Sparta radio station broadcast console | Sony store sign with working rotating color tape |
---
Sony 555-A with matching speakers '58, '59 $595.00
'58 picture '58 Ad '59 ad $595.00
---
Ampex tape splicer (by Robins) & Ampex microphone (by Electro Voice)

Bell & Howell 2297 '68 - '70 $264.95

Unique in that it loads tape using a vacuum motor. An engineer visiting Phantom's studio said, "I can just imagine the Bell lab techs sitting around discussing placing a vacuum cleaner motor in a reel tape recorder."

'68 Directory '68 ad '70 Directory view brief RealPlayer video clip
---
Tape Timer
Concertone tape timer in original wooden box and with mounting bracket • same timer except by Superscope from 1961 - $19.95
---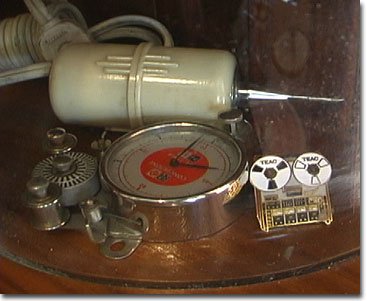 Robins Head Demagnetizer with Concertone taper counter • '61 info • Robins tape timer
---
Radio in form of a Roberts tape recorder - view video • classic microphone (center) and tape recorder radio in miniature attaché - view video
The Spirit of St. Louis Media Center. This is a unique and actually recent reel to reel tape recorder that will transfer CD music to 1/8" width reel of tape (same as cassette tape). Then it will playback. Interesting set of control, however definitely not high quality. Sold in airline flight magazines for $249.99. Also sold under the RCA brand.
---
| | |
| --- | --- |
| Poster for the public auction for the Armadillo World Headquarters | Ampex black satin jacket logos |
---
RCA studio label & cup

Bell & Howell Bass Boom Box 1970 $79.95

Bell & Howell Cassette recorder in round container
---
---
Sony Elcaset

Elcaset was a short-lived audio format created by Sony in 1976, building on an idea introduced 20 years earlier in the RCA tape cartridge. It cost $630.

In 1976, it was widely felt that the compact cassette was never likely to be capable of the same levels of performance that was available from reel-to-reel systems, yet clearly the cassette had advantages in terms of convenience. The Elcaset system was intended to marry the performance of reel to reel with cassette convenience. The name "Elcaset" may simply mean L-cassette, or large cassette, since the 1/4" tape inside was double the 1/8" width found in standard cassettes. They were divided into six tracks.

The cassette itself looked very similar to a standard cassette, only larger—about twice the size. Like the earlier RCA tape cartridge it contained 6 mm (0.25 in) tape running at 9.5 cm/s (3.75 in/s), twice the width and twice the speed of a standard cassette, providing greater frequency response and dynamic range with lower high-frequency noise than the compact cassette. Another notable difference from compact cassettes was that the tape was withdrawn from the cassette when run through the transport mechanism so that the manufacturing tolerances of the cassette shell did not affect sound quality. The Elcaset also had all the features of deluxe open reel decks, such as separate heads for erase, recording, and playback, remote control, and heavy duty transports for low wow & flutter.


The system was technically sound, but a complete failure in the marketplace, with a very low take up by a few audiophiles only. Apart from the problem of the bulky cassettes, the performance of standard cassettes had improved dramatically with the use of new materials such as chromium dioxide, Dolby B noise reduction, and better manufacturing quality. For most people, the quality of standard cassettes was adequate, and the benefits of the expensive Elcaset system limited. Audiophiles turned away from Elcaset and towards high-end cassette decks from companies like Nakamichi, which began making very high-quality tape decks using the regular audio cassette in late 1973. The tapes they made could be played on any standard cassette machine. Also, the machines were expensive. Elcaset began a fast fade-out in 1978.


The system was abandoned in 1980, when all the remaining systems were sold off in Finland.

Teac AL700

The Teac AL 700 was released by Teac in the mid-1970's. Three motor & three head closed-loop system. $1,100

---

Technics RS-7500U

Technics RS-7500U $650 used the Sony Elcaset

---

Technics SV-P100 digital audio VHS cassette deck

Technics' first cassette based digital audio tape deck with integrated helical scan tape transport

Garrard Tape Load Magazine
And here we have Telex's Model 48D & 48H 12 cartridge 8-Track tape changer
---
On July 4, 2012 we took the family to the Intrepid Museum in NYC. Along with the carrier, they have the USS Growler, the first nuclear-armed sub, launched in 1958. In the crew cabin was this rack marked "Ships Entertainment System' with an Ampex reel transport (600 series?) front and center.
Photo(right) from Dan Blumenthal - reeltoreel@yahoogroups.com - click on the photo for a larger view.
---
---
IN THE EARLY PART of the 20th century, most Americans believed that American Indians were doomed to cultural extinction. The U.S. government demanded thatIndians abandon their tribal languages and religions. Indian's were told to learn "white people ways" and join mainstream America.
With little scientific training, and only a modicum of outside support, the young music teacher from a respectable Midwestern family vowed to preserve the old Indian songs in wax. Frances Densmore spent her life trying to gather up scraps and artifacts of the old Indian ways, shipping them off to the high ground of the Smithsonian Institution before a tide of American progress rose to carry them away.
FOR NEARLY 60 YEARS, a prim and opinionated woman from Red Wing, Minnesota conducted a personal campaign to capture Native American traditional music before it vanished from the continent. Setting out in the early 1900s, Frances Densmore traveled to remote Indian villages where few other white women would dare venture. Her tools were a simple box camera and a cylinder phonograph.
ALONG WITH RECORDING the voices of her subjects, Frances Densmore took numerous photos on her trips to tribal lands. She incorporated these still pictures into her lectures and talks in the form of "magic lantern shows" - precursors to the slide shows and multimedia presentations of today.
---
---
Vinyl Record Making: "The Sound And The Story" 1956 RCA 24min
Reel to Reel Tape Recorder Company Histories

Share "Phantom Productions" is the registered trademark of Phantom Productions, Inc. Copyright 2012 •

All pictures and content on this web site are the property of Theophilus/Reel2ReelTexas